Sunday, September 26, 2004
My First Soccer Melee
A lot of the time, I feel that things that happen in my life are too mundane to put down on the web log. Sometimes it would be nice to have more exciting things to post.
I believe the cliche is: Be careful what you wish for.
I got to see my
first soccer riot
. Actually, more like a melee, as it was over quick and confined to a small part of the stadium (mine, unfortunately). I routinely go to nearby San Jose to see the MLS's
LA Galaxy
play the local
Earthquakes
. I get to see a close ex-college friend, and I like the soccer. It means cheering against local residents, but I pick a team and stick with it.
Basically, the visiting fans (e.g. us) got a section of the stadium just below the season-ticket holders. Normally, the visitors are segregated in the corner where we can be a loud as we want. The problems were mostly with one of the Galaxy fan support groups, the
LA Riot Squad
(a name like that begs for trouble, eh?).
One of the
soccer message boards
summed up the incident better than I could:
I'm sure everyone will have their own Play-by-Play (especially adding names), but the very simple version was this:

Spartan Staff: Hey you need to sit down because the families behind you are complaining.

Riot Squad: No, we paid for these seats so we could stand and cheer. Look over their at the Casbah, they're standing

Spartan Staff: Okay, we'll get the cops

Cops: Sit down.

Riot Squad: No. we paid for these seats so we could stand and cheer. Look over their at the Casbah, they're standing and nobody is troubling them.

Cops: Sit Down or we'll remove you from the stadium

Riot Squad: The ******** you will.

The Cops started beating the ******** out of a bunch of RS'ers who mouthed off. It was about 3 cops/Spartan Security per RS'er. Anybody who didn't immediately sit down and shut up was whacked and taken out.

A lot of the Riot Squad just left out of anger in protest.

[Earthquakes President & General Manager] Alexi [Lalas] came down to calm the whole situation, which actually did work for the most part (although a few more people got dragged out anyway). Alexi moved all of the SJ fans in our area to different seats in the stadium.
Ugh.
As often happens in ugly incidents,
all
groups had their share of blame. The Earthquakes management for telling conflicting messages about whether it was OK to stand or not, the fans for underestimating the seriousness of the situation, and security for using force in a disproportionate and excessive manner. The end result was PR blow for a team with
uncertain ownership
right now.
It figures that all my pictures had nothing to do with the police scuffle. I guess I haven't been blogging long enough to have developed the killer journalistic instinct. Or was it more like I didn't want to show my digital camera and give an angry cop a reason to pay attention to me? Yup, that's the reason.
Traffic trying to park near San Jose's Spartan Stadium

This picture was too good to pass up. It must be bad enough to be stuck in gridlock, then this sign rubs in how slow you're going. I saved eight bucks and several minutes by parking a few blocks away.
My best action shot of the night.

Considering it was taken with a tiny cell phone digital camera among a standing-room only crowd, I'll take it.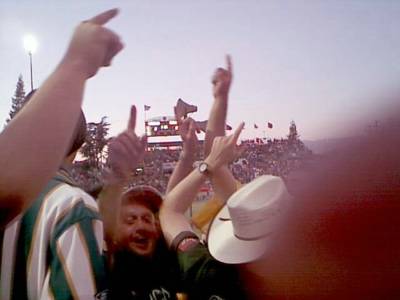 Fans 1

Fans 2

The LA Galaxy fans, before the numbers got thinned out. I was lucky enough to stay the whole game (a 0-0 tie! Arrgh!). They're very nice people when they're sober. Some are even nice drunk. And no, I was stone sober the whole time.
All in all, not the night I expected. It's been a tough time recently for Bay Area sports fans. There was the
murder
a few days back after the San Francisco Giants game, that
ugly chair-throwing incident
at the A's game, and now this.
The SJPD has had a rough time of it too. In the past couple of years, officers have had to use force, sometimes deadly, and sadly an officer used
deadly force again today
. As you would expect, community groups have
not
been happy with this. Personally I am pro-cop, and I have all the respect in the world for them. I just hope better planning is done by all sides to prevent a repeat of what I saw last night.
Comments:
Here is the letter I wrote to Alexi Lalas, President of the San Jose Earthquakes:
Alexi Lalas
San Jose Earthquakes
100 North Almaden Ave.
San Jose, CA 95110
September 27, 2004
Mr. Lalas,
I am writing to you regarding the events that took place at Spartan Stadium on September 25th, 2004. I am afraid that words cannot describe the incidents that my fellow Los Angeles Galaxy fans and I experienced during the game between our team and your San Jose Earthquakes.
Mr. Lalas, as you may or may not know by now, the events that took place are exclusively your fault as well as the fault of the ticket sales representatives that told us we could stand during the game. It is also the fault of the person who made the decision to place us between season ticket holders and the field. Please understand me, I know that you are not responsible for the miscarriage of justice carried out by the members of the San Jose Police Department, SJSU Police Department, as well as the CSC Officers. Their unexcused abuse of power and violation of human rights is not your fault since you did not give them the command to arrest some of our fans, as well as to hurt them with batons and electrocute them with taser guns. I understand that you have no control over the police brutality carried out against people who were doing nothing but merely standing at a soccer game. You even came out to stop these atrocities.
However Mr. Lalas, what you are guilty of is allowing a potential situation of danger to innocent people. The acts of negligence and ignorance carried out by both your sales representative as well as your own are the reason to blame. Mr. Lalas, I know that you have a lot of experience and knowledge of situations. Your time with Padova in Italy as well as with the Los Angeles Galaxy should have given you the ability to prevent the recipe for disaster which took place that night. You know that in Europe fans are segregated when they attend stadiums. Each and every single local club designates a section for visiting fans as well as a police escort in order to guarantee the safety of both home and away fans. You also are well aware of the behavior of hard core fans, especially Los Angeles fans. This is not the first time we have visited your stadium and you played for quite some time for our team. You know that we enjoy standing up all game long. You also know how passionate we can be. I remember years ago when you received a trophy shaped like a beer keg from the Los Angeles Riot Squad and I remember how much you enjoyed and celebrated that award. I saw you from a distance that night. You knew that we were going to stand up that night, your representative knew it too and even said we could. I was no longer at the stadium by that point, but I even heard that you came to the area where are fans were and allowed them to stand up. Mr. Lalas, if you knew that we can stand, why did you then allow for us to be placed in an area where we covered the view of season ticket holders whose view was blocked? Allowing for the potential situation of complaints? Why did you not place us in our usual corner? I heard that there was an organization that requested our traditional area. But I am quite certain that denying them their request and placing them elsewhere would not have brought the consequences that your negligent actions did on Saturday night.
Mr. Lalas, I do not know if you are fully aware of the results of your poor judgement. Many fans were hurt and abused by the police. A young man was arrested for doing nothing but protecting himself from an officer who was going to strike him with his baton. This man was beaten, electrocuted, dragged out of the stadium, humiliated, and spent the night in both jail and the hospital until released at 4am. His father was also handcuffed, beaten, electrocuted, dragged, and humiliated. Another fan was struck in the head and had to be taken to the hospital. A third fan suffered a fractured arm. Not to mention the humiliation of the many fans who were escorted out of the stadium such as myself with his arm twisted. Mr. Lalas, I complied to the police officers requests to sit down, I then saw you and walked up to you. I told you that we were getting arrested and kicked out, I don't know if you remember. I then was grabbed by a CSC officer who twisted my arm without a reason and escorted me out of the facility. Mr. Lalas, what was the need of the twisting of my arm since I complied with the officers' requests and posed no threat to anybody? Also, did you not say that nobody gets escorted out without a reason? well, I did. Perhaps just for walking next to those who were being escorted out, but of course the staff there did not listen to reason.
Mr. Lalas, I urge you to prevent this sort of situation from taking place again. This is a shameful situation for yourself, your sales representative, your San Jose Earthquakes, SJSU and San Jose Police Departments, SJSU staff, the Los Angeles Galaxy, supporters clubs, Major League Soccer, and of course the sport of soccer itself. Remember that our sport has a bad reputation of being an event where riots take place and even death has occurred. If we wish for our sport to grow in this country, we must work together in order to prevent this sort of thing from happening again. Speaking of the growth of soccer in this country, somebody asked "if this sort of thing happened with two hundred visiting fans, what will happen when soccer grows in the United States and two thousand fans make the journey?" Mr. Lalas, please think about this valid point. Please place visiting fans in an area that is safe, and segregated from fans who may object to being close to Los Angeles fans as well as fans whose view may be covered by our standing. If we cannot stand, please let us know in advance. I have been going to Spartan Stadium for several years. I remember when we were originally placed in center field on the eastern side of the stadium. We were warned that we had to sit down during the duration of the event and we did peacefully because we accepted and were not deceived by false promises.
Mr. Lalas, your ignorance or your ignoring of your knowledge and experience is not an excuse for the horrific night we had to endure at the hands of abusive police officers. I hope that you have learned from this mistake as well as my letter in order to prevent further incidents where we may lament something much worse than what we had to endure that night.
Thank you for your cooperation and your attention.
Sincerely,
Sandro Soler
What a great letter Sandro. Why didn't I thik of having you post it on the comments section? Duh. The quakes need to take care of this promptly, the best way would be to get in touch with the fan organizations, both San Jose groups and opposing team groups. Everyone should be on the same side here, nobody wanted what happened. Good planning and communication will prevent future occurances.
Post a Comment