Sunday, January 23, 2005
Frontier Bris
Johnny Carson
died today
at age 79, from emphysema likely related to smoking.
I only got to see the ending years of his
Tonight Show
run. The funniest moment I remember from the show took actually took place before I was born. Like many of Carson's best moments, it involved Johnny getting the best out of an unplanned event. In 1965, Ed Ames went on the Tonight Show for a tomahawk throwing demonstration.
Let's just say his throw ended up going a bit south of his intended target: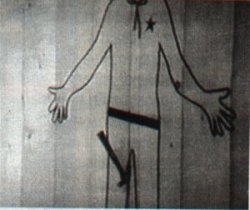 Picture from
Baby Boom HQ

After many, many seconds of audience laughter, Johnny responded: "I didn't even know you were Jewish. Welcome to Frontier Bris." I heard somewhere that the bit generated the longest uninterrupted audience laughter in TV history. The incident is included in
this clip
of the Johnny Carson DVD set from
liketelevision.com
. The clip is about four minutes long, and the tomahawk segment begins at around 1:45 from the beginning. It's worth a viewing if you haven't seen it.
Rest in peace, Johnny.