Tuesday, January 11, 2005
La Conchita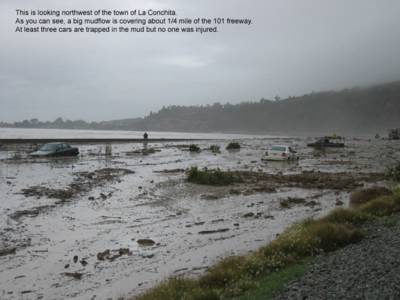 Picture of a landslide near La Conchita. A second slide later in the day killed at least three people.
Photo
by UCSB researcher and La Conchita resident
Grace Chang
.

La Conchita is a small Southern California beach town halfway between Ventura and Santa Barbara. Situated in the narrow space between the cliffs and the ocean, it's a nice quiet town that unfortunately ends up in the news during particularly heavy rains. Today, a
landslide
wiped out 15 homes, killed three people, and left a dozen or more missing.
A sad part about this is that the same thing happened almost exactly
ten years ago
. Fortunately, no one died in that slide. A retaining wall was built to prevent the same thing from happening again, but it apparently during today's slide it "snapped like matchsticks."
It's really aggravating that this tragedy happened despite a history of previous slides (observed slides go back nearly 150 years), and
extensive geologic study
of the La Conchita area. Even an
unsucessful lawsuit
that determined that natural causes, not excessive irrigation of the above property, was the likely cause of the 1995 slide.
Clearly, a lot of attention was paid to the unstable geology of La Conchita before today's tragic losses. I don't know what (if anything) was being done to mitigate future slide damages, besides the unsuccessful retaining wall. I remember driving past La Conchita countless times and seeing condemned homes that still had not been removed even after several years.
People want to live in beautiful settings; I would love to live on the beach. There are homes on and below cliffs, on barrier islands, and many other less than stable areas. I'm sure most of the people know and accept the risks, but it just seems that after years of mudslides, scientific research, and litigation that someone could have taken steps to make La Conchita safer. Were there any ideas being tried?
Comments:
From what I've read that so called "retaining wall" was just to keep debris from washing down the road, and was never purported to hold back another (inevitable) slide. I wrote an entry on the same incident here: http://heliolith.com/archives/2005/01/11/abc-news-two-dead-after-calif-mudslide/
Best,
michael.
Thanks Michael, I stand corrected on the "retaining wall." With the volume of mud and water involved in that slide, any wall would have likely failed.
It was aslo a shame to learn that the County Sherriff asked the residents to leave, yet some chose to stay behind. It's one thing to say "Let people put their property at risk if they want to;" yet another when lives are involved, especially dependant children. Is the answer to arrest those who do not comply with evacuation orders? I'm not sure how I feel about that.
I was just browsing various blogs as I was doing a search on the word
poster
, and I just wanted to say that I really like what you've done with your blog, even though it wasn't particularly related to what I searched for. I appreciate your postings, and your blog is a good example of how a blog should be done. I've only just recently started a
Posters
website - feel free to visit it when you get a chance if you wish. Much success, antonio.
Post a Comment