Wednesday, January 05, 2005
Rock Bottom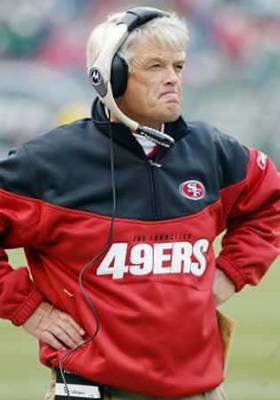 Dennis Erickson expressing his feelings about the 49er Head Coaching job (Jeff Christensen/Reuters, October 17, 2004)

Today was the official rock-bottom for the San Francisco 49ers. Ten years ago, the team was preparing for their annual playoff run that would end in victory in
Super Bowl XXIX
against the San Diego Chargers. Ten years later, after finishing the season with a 2-14 record, the team
fired Head Coach Dennis Erickson and GM Terry Donahue
.
To be honest, it is a good start, but it won't fix the team. I know nothing about how to run a professional football team, but I bet it's not that different from any other business. When a company is being run by people who either can't or won't set up a positive, focused work environment, the place goes all to hell.
I've been in several work situations, and I am absolutely convinced that like attracts like. If you're disorganized and lack focus, the company will run out of money. If you treat your employees badly, good employees will leave and be replaced by bad employees. However, a good work environment will attrack good people; bad workers either won't be able to hack it, or they will look for a place to go where nobody bothers to care.
It can be very difficult to turn a company's outlook around, but there are a special few who can do it. I wish the 49ers staff luck in finding those rare leaders who can.