Sunday, June 12, 2005
Small Fish, Meet Big Pond
A couple of weeks ago I was going through my
email account
, the one that I have linked on this blog, and I saw an email that looked like spam or worse. It was an Evite from local television channel
KRON4
.
Was this some kind of joke?
I clicked it open, looking at it with my hand over my eyes, hoping I hadn't just released some nasty new computer virus into my poor laptop. No, this was a legitimate invitation to a
kickass party
meetup of Bay Area bloggers
.
Hmmm, why were they planning to gather all us local bloggers into the studio? Nefarious plots ran through my mind. Wait! There will be free food and a "little memento for attendees." Well, I suppose I could be convinced to go and add my two cents after all.
The meetup was this past Saturday, and over one hundred bloggers showed up. Or was that 99 bloggers, and little old me? I was intimidated. I didn't know anyone there, and I didn't realize one of the bloggers present was
Craig Newmark
, until after I had left. @%#@%#%!!! I didn't even get to say "hello" to him.
I ended up doing what I usually do in big crowds: oscillate between Wallflower and Overzealous Socializer. I did manage to have a couple of interesting conversations, one with
Sp.ookee
who has a generalist blog my like this one, and
Clyde
who reports on the hip-hop industry. However, like
some others
in attendance, I spend a lot of my time feeling the uncomfortable high school clique flashbacks. There are a couple of Flickr photogalleries of the meetup,
here
and
here
.
As for the event itself, it was pretty unstructured. The general manager of KRON news spoke, admitted he was still a novice with this whole blogosphere thing, that he definitely wanted to collaborate with us, and encouraged us to suggest ideas on how to improve the way KRON news does its job.
After that, we took a group shot in the KRON news set, which was just great. I still can't get over how much smaller everything is in real life versus on television. The studio was no bigger than a modest living room, and all the officer chairs I've ever sat in are nicer than the chairs the anchors sit in. I like the multiple televisions imbedded in the background, but is
QVC
really one of the channels that should be playing?
The left half of the group photo, via
kron.com
. I circled myself (I think, sadly I can't be sure). I'm near the baby, and yes he has his own blog, which he contributes to mostly by drooling on the keyboard.

The whole purpose of the gathering was for KRON to network with the local bloggers, get a relationship going, and (hopefully for them) get a jump on the local news competition. KRON got the idea after the recent
BlogNashville
conference (KRON and the Nashville station
WKRN
, which supported that event, are owned by the same company). Basically, KRON wants to copy Nashville's successful format. First up will be a list of local bloggers, as well as an aggregator that will allow visitors to the KRON site see the most recent postings of local bloggers. One idea mentioned was to bring in a full-time blogger to write as well as compile the best of the local blogosphere,
as it is being done
in Nashville. Another idea is to use local bloggers both as pundits to
incoherently rant
thoughtfully discuss issues, as well as providing "man/woman on the street" coverage in the event of a breaking major story. As for me, I'm probably one of the few bloggers from Fremont, but I don't have a solid grasp of local issues. I can rant with the best of them, so I may yet give them something to chew over.
I give KRON credit for inviting us in, and certainly for beating other local stations to the punch. The past few years, KRON has been in an awkward position, having been cut loose by NBC when the network chose to switch stations, so it could directly own and control its Bay Area affiliate. Without network programming to fall back on, KRON has instead promoted itself as "The Bay Area's News Station (tm)" and worked that angle to stay successful. Being independent does seem to be an advantage in this case, as they don't have to worry how the old network execs at Rockefeller Center feel about this initiative.
My final words of wisdom on this matter: Nyah Nyah!! Others may have more hits per day than I do, but I got a t-shirt! In your face,
Glenn
and
Kos
!!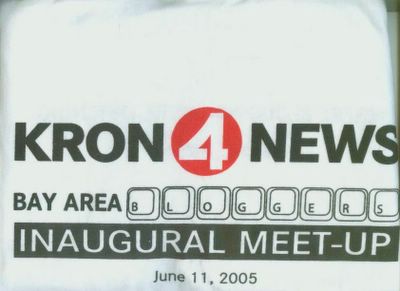 That "little memento." Not bad, eh?

Come to think of it, Glenn was at BlogNashville, so he probably got a t-shirt too. But still...
Comments:
Way cool! I missed the blogmeet down here of the Bad Example family. Had in-laws in town that weekend. And BE didn't have cool t-shirts! Maybe I ought to go to your blogmeet!
Post a Comment