Tuesday, August 30, 2005
Next Time, Sunscreen
Holy crap. A week since I posted? Oops. Oh well, blame work, a busy weekend and a cause of moderate sunburn. More on that in a minute.
This past weekend I did two major activities on the same day, Saturday. I'm not the highest energy person in the world, so I was expecting to be pretty well wiped out by Sunday. No surprises there.
College buddy
Bill
has been looking to head out to the (sort of) nearby
Farallon Islands
for some time. He read a book where the Islands were featured prominently, and wanted to see them for himself. If you ask him nicely, he should tell the name of the book, and I will post it (I'm curious myself). Plus, the Farallones gets a lot of great white sharks. Peak season is a few weeks off, but it couldn't hurt to try to see if we could spot any.
So, against the objections of my body, I set myself to wake up at 5am on Saturday, just like it was a day at work. After a breakfast of doughnuts, we were all set to take the boat out into the San Francisco morning gloom:
It's Saturday at 7am. Shouldn't I be in bed right now?

Oh well, at least San Francisco looks great even in a cold, nasty fog.
From the boat, looking back at the Marina District.

How many opportunities will I have to go under the Golden Gate Bridge? Even shrouded in fog, I thought it was worth it to snap plenty of pictures:
North tower of the Golden Gate Bridge.

A shot Alfred Hitchcock would love. Creepy.

The whale watching trip was a fundraiser for the
American Cetacean Society
, and as a bonus, extra passengers from the nearby
Marine Mammal Center
came along for the ride. These seals were well enough to be released from the hospital, and the Farallones were their destination.
Along for the ride.

After two hours and twentysome miles, we finally reached the first of the Carillons Islands. Not the most attractive place if you're a human. But everything else seems to like it here.
Southeast Farallone Island, the largest of the group.

This particular island is the one that was inhabited in the past, and it is the island where researchers do things like count the number of great white shark attacks on the seal population. At least the morning commute to work isn't heavy.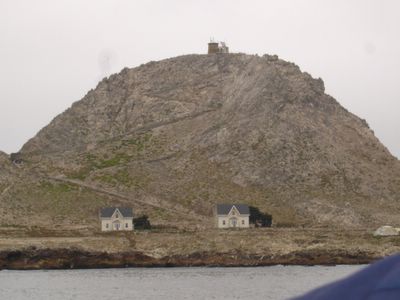 Houses on the island where research scientists live. A house like that would go for at least a million or two back on the mainland.

Here are some of the islands main residents:
Lots of seals and birds.

This was an unexpected sight: we noticed dozens and dozens of dead rockfish floating by the side of the boat. The captain of our boat reasoned that a mid-line trawler had dumped the fish. What happens is that a trawler drags a net through the water. The net gets just about everything, not only what the fisherman are after, but all other fishes ect. in the net's path.
In this case, the net likely scooped up the rockfish we saw. Since the fishing boat would have been in trouble if he came in with this incidental catch, called bycatch, it likely dumped the fish back into the water. Many fisheries have their nets regulated to cut down on bycatch, but apparently these mid-line trawlers have not been made subject to such regulations. And the only ones who benefits are the gulls who get an easy meal.
Dead rockfish.

After several hours, we finally saw what most of us on the boat came to see. Whales! We had the good fortune to be surrounded by a curious group of humpbacks.
A humpback whale briefly surfacing.

Somehow a migrating songbird ended up on the boat. A couple of passengers on the boat decided to hold on to the bird in order to release it back on dry land. There were a couple of near escapes, including one time where the bird got out to the stern of the boat. Bill wasn't expecting to turn around and see a bird perched on his foot!
Bill's shoe makes a convenient perch.

Off we went to the Northern Farallon Islands. On the way, we passed a huge pod (more like a crowd) of dolphins.
Dolphins.

Finally, we reached the Northern islands. Not too much to them.
One of the Northern Farallon Islands.

It had been a long day. We were over an hour late in getting back, so we high-tailed it back to land. All of a sudden, someone calls out "Orcas!" You wouldn't think a boat could do a 180 degree turn so fast.
Orcas!

Finally, we headed back to land. By this time I was pretty pooped, but it was good to see that the fog had lifted from the coast.
A now fog-free Golden Gate.

It was a long morning and afternoon. Later on, Bill and I headed to San Jose to meet up with fellow college friend
Sandro
, where we watched the LA Galaxy lose to the hometown San Jose Earthquakes. I took away a few lessons from the trip:
1.) Yes, you can get sunburn from a cold, foggy day.
2.) On long days, take a couple extra memory sticks and a backup battery for the camera. Bill was better prepared, and some of his photos are
here
. That's the main reason there are no pictures from the Galaxy game. I'll make it up when I travel down to LA to see a game in September.
3.) Highway 280 is the best way to get from SF to San Jose as quickly as possible. However, it takes at least as long just to get out of San Francisco.
This was a long post, but it was also a long day. Now if it weren't for the extra color in the face it would be ideal.
UPDATE:
In the comments section, Bill says the title of the book is
The Devil's Teeth
by Susan Casey, which deals with the great white sharks that come to the Farallones. I wouldn't have minded seeing a few great white feed.
Comments:
**UPDATE! FREE SHIPPING FOR A LIMITED TIME!**
Better than klear action whitening and ION whitening systems! Half the
price too!
Welcome to PerfectlyWhite.com,
PerfectlyWhite.com is proud to present to you the first ever at home
laser whitening treatment. We are bringing you the most popular in
office treatment at home for the fraction of the cost! One laser
treatment at a doctors office can run around $600 as shown above. This
is very exciting news for anyone who is looking into whitening their
teeth professionally in the comfort of their own home. Best of all you
can have this plasma light technology for much less! The light is yours
to keep and can be used as many times as you like! You can achieve
professional results in less than 7 days! Our method also works in
between your teeth and deep down below the enamel. This procedure will
not damage or wear away the enamel.
How does it work?
Its very simple. The Plasma light will increase the breakdown speed of
Carbamide Peroxide, in turn releasing more oxygen which speeds up the
bleaching process. The oxygen acts as a bleaching agent that whitens
your teeth safely and effectively. This is why you can pay as much as $600
to get your teeth whitened professionally.
Plasma Laser Light Technology!
Never before seen in any at home whitening kit! Just Like at a real in
office visit, all our deluxe kits have the plasma light tool to
accelerate the whitening process. No one else offers this authentic at
home tool. Its Very easy to operate and safe to use. Accelerate your
whitening by as much as 300% with this method! This means whiter teeth
in less time!
At last, you no longer have to visit your dentist for that
white bright smile you have always wanted!
Our professional dental whitening kit is the same product used by many
of the top cosmetic dentists. Why consider paying up to $600, when for a
few short minutes per day, you to can achieve the exact same results in
the comfort of your own home. Best of all, it will cost you a fraction
of the price!
40% stronger than an in-office visit...
To provide you with superior results, our fully licensed line of
products is one of the industry's strongest and most effective tooth
whitening formulas. The main active ingredient is 35% Carbamide Peroxide.
This concentration is 40% stronger than most dentists use during an in
office visit!
A little more about our 7 day plasma treatment:
* This procedure will NOT harm or damage your tooth's enamel.
This system can't be found in stores!
We are the only internet site who sells this new product!
We are the exclusive seller of this NEW at home treatment!
You and your friends can take advantage of this treatment with just one
plasma light!
Plasma light treatment only takes on average 7 days to complete!
Results are 100% guaranteed and 100% safe! for more information
CLICK HERE
Post a Comment